Celebrate Black History Month in Chicago with events that enlighten and inspire. The rich history of African-Americans is one that is constantly being reshaped and retold. Learn more about the African-American experience through the arts, music, food, fashion, and community-led events taking place throughout the city of Chicago.
---
---
Black Girl Mania: The Release Party
Saturday | February 10th | 6:30 p.m. – 9:00 p.m.
Reunion Chicago| 2557 W North Ave. | Free
The Black Girl Mania: The Graphic Novel is an afro-indigenous futurism and comic book that highlights one of most commonly misunderstood aspects of bipolar disorder. The event, celebrating the novel's release, will feature a pop-up exhibition of the artists work, an interactive lighting exhibition that will feature nine artists, whose work centers on mental health, plus food and entertainment to celebrate the occasion all night long. For more details on the event, head over to the Facebook page.
Thank the Lorde
Saturday – Sunday | February 17th – 18th | 6:30 p.m. – 9:00 p.m.
Steppenwolf Theater | 1650 N Halsted St. | Free
Thank the Lorde is an inaugural event to celebrate poet writer, feminist, womanist, librarian, and civil rights, activist. The self-described black, lesbian, mother, warrior, poet who actively fought many personal and political battles through her writing and life. The People's Church of Audre Lorde serves to further and protect the development of an eroticism rooted in the spiritual practices and legacies of Black women and gender non-conforming femmes. Service goes back to back at Steppenwolf Theater. For performance, details visit Steppenwolf.org.
DG Taught Me Lecture Series Starring David Banner
Thursday | February 22nd | 7:00 p.m. – 10:00 p.m.
Harold Washington Cultural Center | 4701 South Dr. Martin Luther King Junior Dr. | $30 -$50
The "DG Taught Me," event series continues with the Grammy Award-winning music producer, recording artist, philanthropist, activist and actor David Banner. The thought-provoking rapper will join Valeisha Jones, Head of Black Community Engagement for Google and the Co-founder and Chief Executive Officer of the Women in Entertainment Empowerment Network (WEEN), and Felicia Chappelle on stage at this highly anticipated event. To purchase tickets visit the website here.
Ujamma Market
Wednesday – Thursday | February 14th – 15th | 9:00 a.m. – 5:00 p.m.
Chicago State University | 9501 S King Dr. | Free
Shop local and recycle the Black dollar during the Ujamaa Market at Chicago State University. The vendor fair will feature clothes, jewelry, skin care products, necessities, food & more. For event registration and participating vendors, visit the website here.
The Artist Lounge (Pop Up)
Friday | February 9th | 7:00 p.m. – 9:00 p.m.
Columbia College | 104 South Wabash Ave. | Free
Join students of Columbia College for "The Artist Lounge," an open mic platform that allows artists of any medium to showcase their work. This event celebrates Black culture and connects art with surrounding communities. The sole purpose of the Artist Lounge Open mic is to create space for dialogue and art appreciation. This pop-up event is in partnership with SafeSpace Chicago and the Black Arts Festival running February 8th – 10th at the university. For more Black History Month celebrations at Columbia College, be sure to check out their website here.
Fredrick Douglas Now
Thursday | February 22nd | 7:00 p.m. – 8:30 p.m.
DePaul University – The Theatre School | 2350 North Racine Ave. | Free
Actor, writer and director Roger Guenveur Smith performs his one-person show, Frederick Douglass Now, in honor of the Frederick Douglass Bicentennial. Smith bookends classic 19th-century texts by Douglass with original narrative to achieve a stylistic mash-up informed by the present American moment. There is a waiting list for tickets, but you never know, so be sure to RSVP here.
2018 Black History at City College of Chicago
Sunday – Saturday | February |Time Varies
Location Varies | Free
City Colleges of Chicago celebrate Black History Month with a variety of events, focusing on dance, film, fine arts, and more. For a full list of events, check out their event calendar for all campuses here.
TRiiBE Tuesdays: Black Chicago Representation in Media
Sunday – Saturday| February 1st – 28th | Time Varies|
Refuge Live!. | 416 S Clark St. | Free
Join the TRiiBE, for their next installment of TRiiBE Tuesdays, as they explore the representation of Black Chicago in media. The evening will feature a panel discussion, hosted by some of the city's leading media personalities. Plus networking with some of Chicago's most innovate content creators. The recent debut of Showtime's new hit show, The Chi, had social media ablaze with debates about everything from its slang and outfit choices to scene locations and character portrayals. Entry is free to the monthly happy hour event.
Black History Month at the DuSable
Sunday – Saturday| February 1st – 28th | Time Varies|
DuSable Museum | 740 E 56th Pl. | Free
Celebrate Black History Month with the city's only African-American museum located on Chicago's South Side. Events throughout the month include: lectures, live musical and dance performances, as well as movie screenings, highlighting Historically Black Colleges and Universities, revolutionary moments in history, and much more. To see all the event details taking place, visit DuSable Muesum.org.
Chi-Kanda Hip Hop & Comic Book Festival
Saturday| February 17th | 2:00 p.m. – 7:00 p.m.
Que4 Radio Station | 2643 W Chicago Ave. | Free
Celebrate the release of Marvel's Black Panther with a Hip-Hop and a comic book festival. The event will feature video games, cosplay, anime, positive hip-hop performances, live art, and more. The event is free for all ages. After party for the 21+ crowd will be held at Subterranean following the all-day event. More details about the event available on the event page.
Courageous Conversations: Activism Then & Now
Wednesday| February 21st | 6:00 p.m. – 8:00 p.m.
DuSable Museum | 740 E 56th Pl. | Free
Join Center on Halsted for an intergenerational panel discussion featuring advocates, educators, and directors discussing the history of Black LGBTQ activism. For more information, including speaker bios and registration, be sure to visit Community Center on Halsted.
Black, Queer & Proud
Thursdays | February 8th & 15th | 6:00 p.m.
906 S Homan Ave. | Free
In celebration of Black History Month, Black Lives Matter Communal Healing in conjunction with SAIC presents a meaningful conversation about the lives, resilience, and positive coping, and what it means to fall at the intersection of black and queer. The roundtable discussion exists to spark meaningful conversations as it relates to the black LGBTQIA community. The event will be free of photographs, video, and live feeds for the community and residents to engage as freely as they can. More event details available here.
Combing Towards Our Roots: A Black Hairstory Experience
Friday | February 16th | 6:00 p.m. – 8:30 p.m.
Chicago State University (SUB Rotunda Building) | 9501 S King Dr. | Free
Join Chicago State University community as they comb through the thick and glorious history of Black Hair through a night of performances, reflections, and live hair presentations! Special guests include educator, psychologist, and hair stylist, Dr. Afiya Mbilishaka, and Chicago-native, interdisciplinary artist and master hair braider, Shani Crowe. Register here for the free event.
Englewood Speaks: I Remember When…
Saturday | February 24th | 7:00 p.m. – 9:00 p.m.
Kusanya Cafe | 825 West 69th. | Free
Celebrate Black History in Englewood with "I Remember When…" The event seeks to highlight the glory days of the South Side neighborhood through interactive storytelling. More details on the Englewood Speaks series available on the event website.
Heineken Red Star Access Presents "Black History Legends"
Sunday | February 25th | 2:00 p.m. – 8:00 p.m.
The Mid | 306 N. Halsted St. | $0 – $150
Celebrate some of Hip-Hop's biggest legends at the MID in Fulton Market. See artists like Big Daddy Kane, Slick Rick, and beats by some of the city's hottest DJs. Grab your tickets to the legendary event here.
Reclaiming Our Throne
Friday | February 9th | 6:00 p.m. – 9:30 p.m.
YMCA | 6330 S Stoney Island Ave. | Free
Make your way to the South Side YMCA for the community event, "Reclaiming Our Throne." The Black History Month focused event will raise awareness about accountability & unity in the black community, focusing on topics such as black love, empowerment, heritage, leadership, entrepreneurship, violence, and more. There will also be various merchandise vendors, food, engaging activities, & a great panel discussion to help funnel and fuel the black dollar and community. All the events are free and open to the public.
Morgan Jerkins in conversation with Britt Julious
Thursday | February 15th | 7:00 p.m. – 9:00 p.m.
Swedish American Museum | 5211 North Clark St. | Free
Join Morgan Jerkins and Britt Julious for a conversation, reading, and book signing of Jenkin's latest essay collection, This Will Be My Undoing. The linked essays interweave her incisive commentary on pop culture, feminism, black history, misogyny, and racism with her own experiences to confront the authentic challenges of being a black woman today. Britt Julious is a journalist and essayist. She currently writes a weekly column for the Chicago Tribune and host of "The Back Talk," a podcast featuring stories from young women of color. Registration is required for this event, save your seat by heading over to the event page.
9th Annual Winter Block Party: "Do The Winter Block Party Thing."
Thursday | February 10th | 7:00 p.m. – 9:00 p.m.
Metro Chicago | 3730 N Clark St. | Free
The Winter Block Party is a daylong celebration of hip-hop arts and culture. This year's theme "Do the Winter Block Party Thing," is inspired by the iconic Spike Lee movie titled, "Do The Right Thing." The showcase will feature artists, musicians, poets, producers, and dancers who "do right" by their communities in using the power of hip-hop to bring people together. Check out the full festival schedule at
wbez.org/events
.
Macy's Celebrates Black History Month
Thursday | February 15th | 7:00 p.m. – 9:00 p.m.
Macy's on State Street | 111 N. State Street. | Free
Macy's is proud to celebrate Black History Month by honoring Chicago's innovators and visionaries for a discussion and Q&A with Chicago's African-American pioneers. Speakers of the event include Windy City Live's Val Warner, Chairwoman of WVON Radio Melody Spann Cooper, Brand Manager of Luster Products Inc Resa B. Luster, and Co-founder/CEO of Black Tech Mecca Fabian Elliot. The discussion will also feature a reception featuring live paintings, hair-care demonstrations, mini make-overs, plus more. RSVP for your ticket to the celebration of African-American beauty, art, and technology here.
The Black Monologues
Monday | February 26th | 7:00 p.m. – 10:00 p.m.
Chicago Hope Cafe | 2431 W Roosevelt Rd. |$5
Join some of your favorite actors and performers from some of Chicago's locally made and produced shows(The CHI and Empire) for an evening of acting, live music, a panel discussion and more. Tickets and more details on the event, available
here.
Libya, Modern Slavery, and The Global Migration Crisis
Thursday | February 15th | 6:00 p.m. – 8:00 p.m.
International House | 1414 East 59th St.| Free
Become more educate in human trafficking and slavery as it relates to the present day with
University of Chicago International House.
The event is designed to inform the public on the issue of human trafficking and slavery using the tragic exposure of present-day slave trade in Libya but also connecting it to the human trafficking epidemic right here in Chicago.
The learning from this event will help inform action and policy to combat human trafficking and a better understanding of the global migration crisis. For more details on the event, including panelist information, please visit the website here.
Objects of Care: Adam Green on the Johnson Publishing Archive
Saturday | February 11th | 3:00 p.m. – 5:00 p.m.
Stoney Island Arts Bank | 6760 S Stoney Island Ave. |Free
The Rebuild Foundation hosts their third workshop titled "Reckoning with the History of the Devaluing of the Black Child," lead by Associate Professor of American History Adam Green. The event will highlight magazines from the Johnson Publishing Library & Archives and derogatory memorabilia selected from the Edward J. Williams Collection to embed the story of the killing of Tamir Rice and other African American youth within a deeper history of the devaluation of Black children in America. The workshop is the third of a four-part collections immersion series, "Objects of Care: Material Memorial for Tamir Rice," hosted by Rebuild Foundation. These programs provide opportunities for public dialogue and reflection around the Gazebo that is in the organization's care. To participate in the event, be sure to RSVP on the
event page
.
Chicago Black Restaurant Week
Sunday – Saturday | February 11th – 18th | Time Varies
Location Varies | Price Varies
Chicago Black Restaurant Week (CBRW) is a week-long celebration highlighting Chicago's African- American restaurants and eateries in the Chicagoland area. Last year, CBRW patrons spent over 12,000 dollars at 29 participating restaurants and vendors. Check out my post from CBRW previous year and check out this year's participating restaurants here. This year CBRW has partnered with Black Owned Chicago( "the Black Yelp of Chicago") to celebrate all Black-owned business in Chicago. To participate in their efforts to honor African-American owned companies in Chicago, be sure to visit their website here.
J Dilla's Donuts
Friday | February 9th | 7:30 p.m.
Thalia Hall | 1807 South Allport St. | $15 – $20
Released in 2006,
J Dilla's Donuts
changed the way we hear hip-hop and left a permanent mark on the new era of jazz. Charlie Coffeen (of Sidewalk Chalk) leads a 15-piece orchestra in recreating the album in its entirety, top-to-bottom. The event will feature special guests as well. See full details of the event plus ticket information
here
.
AAN Black History Month: Identity of Color
Saturday | February 17th | 11:00 a.m. – 3:00 p.m.
Chicago Symphony Center |220 S Michigan Ave. | $15
The Chicago Symphony Orchestra's African American Network celebrates National Black History Month with a screening of the 1927 silent film The Scar of Shame. The mission of the CSOA's African American Network is to engage Chicago's culturally rich African American community through the sharing and exchanging of unforgettable musical experiences while building relationships for generations to come. The performance features new music by acclaimed composer and conductor Renée Baker. Tickets to the event available Chicago Symphony Orchestra.com
Sib's Breakfast Club's 8th Annual Black History Month Day Party
Saturday | February 17th | 11:00 a.m. – 3:00 p.m.
Bronzeville Area | $20.18
Celebrate Black History Month at Sib's Breakfast Club. The black-owned business will honor African-American business, HBCUs, Greeks, African-American art, and what they have contributed to black history. Join the celebration by purchasing your tickets to the event here.
Celebrate African American History Month with CPL
Sunday – Saturday| February 1st – 28th | Time Varies
Chicago Public Libraries | Location Varies | Free
Join the Chicago Public Library for their Celebration of Diversity event throughout various branches across the city. Events include interactive events for teens, film screenings, book clubs for adults, interactive events for teens, story times and hands-on activities for kids, and music and crafts for the whole family to join. This year's events highlight the theme "Celebrating African Americans in Music, the Arts, and Literature." For a full list of activities at your local branch, check out the full list here.
Historically Accurate Comedy: Black History Month
Wednesday | February 7th | 8:00 p.m.
The Mission Theater at iO Chicago | 1501 N Kingsbury St. | $14
The iO theater in Lincoln Park celebrates Black History Month with host comedic artists from around the city of Chicago to bring a night of historically accurate pieces. Learn about history as told in the form of sketches, music, stand up, and more! Tickets for the event can be purchased here.
A Conversation with Yara Shahidi
Monday | February 19th | 6:30 p.m. – 8:00 p.m.
UIC Forum |725 W Roosevelt Rd. | $20
ABC'S "Black-ish" and spin of the Freeform show "Grown-ish,"Yara Shahidi will be at the UIC Forum as the keynote speaker for the University of Chicago, Illinois as the 2018 Black History Month keynote speaker. The 17-year old actress has continuously used her platform to speak up about social issues and women's rights. The event is free for current UIC students. However, UIC faculty, staff, and guests may be purchased here.
In Progress: Black Photo Futures
Tuesday | February 6th | 6:00 p.m. – 8:00 p.m.
Museum of Contemporary Art Chicago | 220 E Chicago Ave. | Free
Make your way to the MCA for a conversation with local Chicago photographers W. D. Floyd and Tonika L. Johnson, in conversation with Zakkiyyah Najeebah as conversation rooted in the trajectory of their work as it relates to promoting black empowerment, representation, and love as it thrives on the West and South Side of Chicago. This conversation is part of an ongoing dialogue/visual project titled Black Photo Futures (BPF) that centers the work and philosophies of black-identified photographers and lens-based artists. For more details on this event, head over to the website here.
Black History Month Film Festival
Every Friday and Saturday | February | Time Varies
Studio Movie Grill | 219 W 87th St. | $7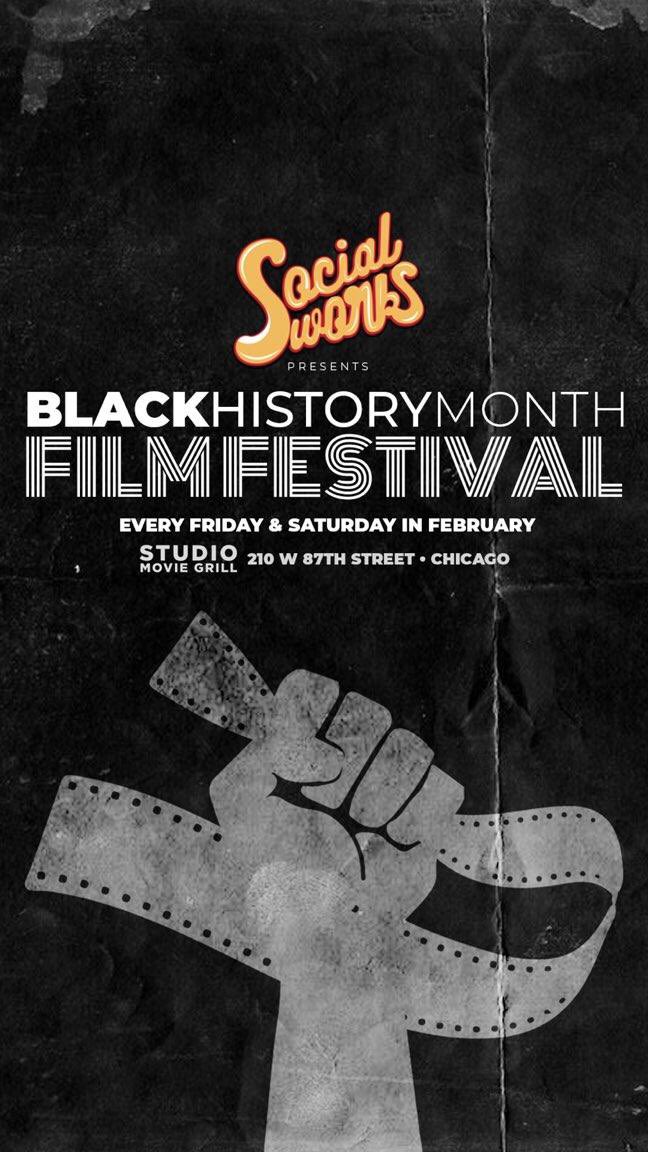 SocialWorks continues to empower Chicago's community and youth with a weekly film festival during Black History Month. Catch movies like The Wiz"; "Malcolm X" and "Ali," as well as an advanced screening of "Shot in the Dark" with a panel discussion featuring special guests, at Studio Movie Grill on the South Side. SocialWorks will also be celebrating the "Black Panther" with giveaways and prizes. Use the promo code SMGCHANCE, to have $1.50 of your ticket purchase donated to the SocialWorks organization. For a full list of move times and dates, head over to the website here.
Breach
Tuesday – Sunday | February 9th – March 11th | Time Varies
Victory Gardens Biograph Theater |2433 North Lincoln Ave. | $15 – $60
BREACH is the story of someone we all know and may have even experienced ourselves. The smart comedy about friendship, motherhood, and family tackles the mother of all challenges: learning to love oneself. To enhance the experience of the themes and issues presented in the play, the public is invited to pre and post-performance events including salons, panel discussions, and celebrations. Purchase tickets now to the performance by visiting Victory Gardens.org.
---
---
Celebrating culture and history is not limited to just one month. You can celebrate and support African-American culture throughout the year by doing several things: Shop Black-owned business and dine at Black-owned restaurants. Recognize and empathize with the African-American issues by being an ally in the fight for equality. There's probably more but here are a few of my suggestions, from one cultural seeker to another.
---
Subscribe to the Email List:
For weekly cultural updates straight to your inbox, be sure to subscribe to The Haute List below!